GPAN and Local Athletics News
16th October 2016 - GPAN takes National England Athletics award for Participation Project of the Year
GPAN beat organisations from across England to win the 'Participation Project of the Year Award'. Further details soon, but in the meantime read more about the National Awards here

31st August 2016 - GPAN wins England Athletics award
The Greater Peterborough Athletics Network was today awarded the "Best Project" award for the England Athletics Eastern Region. The presentation was carried out at the England Athletics Under 17 & Under 15 Championships held at Bedford International Stadium and was received by GPAN and Werrington Joggers coach Roz Hamlyn on behalf of all GPAN member clubs.
Read more about the GPAN award together with which other clubs and individuals were recognised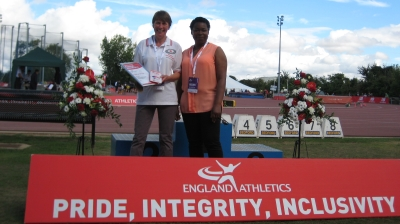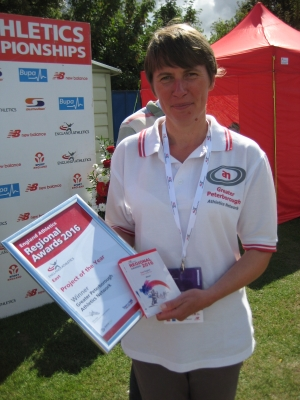 The award nomination reflected the network's collective achievements rather than focusing on one stand-alone project. The award citation was as follows;
GPAN is an active network made up of nine affiliated athletics and road running clubs, and is supported by two main partners; Advance Performance and Vivacity.
GPAN proactively supports the growth of athletics in Greater Peterborough through the delivery of a wide range of participation projects, including;
(i) GPAN/TDA Satellite Club, providing athletics to new participants.
(ii) GPAN/TDA Girls Running Group to support under-represented groups.
(iii) GPAN Try the Track programme providing fortnightly track sessions to all road runners within the network ran by qualified coaches. An average 60-70 runners from across GPAN clubs take part each session.
(iv) GPAN Runner's Workshops.
(iv) GPAN Green Wheel Relay in which 36 teams took part this year over a 50mile course offering an income generator for the network helping them to sustain and invest in other participation and community projects.
GPAN works in partnership with a number of organisations to provide additional opportunities within the community:
(i) Coach led 'Get Fit 4 the Eastern' track training sessions in lead up to the Perkins Great Eastern Run.
(ii) Leader led early morning and lunchtime running sessions in partnership with Peterborough City Council targeting employees at local workplaces.
(iii) Inclusive Try the Track sessions which have previously offered a British Sign Language interpreter, working in partnership with a local deaf charity.
GPAN also proactively supports volunteers across all member clubs by providing:
(i) Popular Coach Development Workshops;
(ii) Opportunities for young coaches to deliver the GPAN Summer Scheme;
(iii) Road Traffic Management and First Aid Courses for Officials.
The Greater Peterborough Athletics Network is a group of nine local athletics clubs and can be found at their website here www.gpan.org.uk.
GPAN Consists of
Bushfield Joggers
Eye Community Runners
Fenland Atheletic Club
March Athletic Club
Peterborough Athletics Club
Thorney Running Club
Ramsey Road Runners
Werrington Joggers
Yaxley Runners and Joggers
21st August 2016 - England Athletics CEO Chris Jones visits Try the Track
Over 100 recreational runners turned up to welcome England Athletics CEO Chris Jones when he came to visit Greater Peterborough Athletics Network's 'Try the Track' and 'Get fit for the Eastern' session
Read more about Chris's vist to the track

25th November 2015 - Abi Oyepitan inspiring youngsters in Peterborough
British athletics star Abi Oyepitan inspired young people in Peterborough at a Sportivate beginners running project at the Thomas Deacon Academy recently, one of the key initiatives to create a sporting legacy from the 2012 Olympic and Paralympic Games.
Find out more about Abi's visit to the Thomas Deacon Academy from England Athletics here.


And this from the Peterborough Evening Telegraph.



17th December 2014 - GPAN Parlouf Relay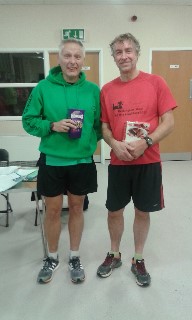 Forty GPAN club members in twenty teams of two runners took to the track for the 2014 Xmas Parlouf Relay organised by Mike Chapman. The winning team being Mike Blackledge (Eye) and Mark Turner (Werrington Joggers). A great event enjoyed by all with the added attraction of mince pies and shortbread to refuel after the race.


















29th January 2014 - Pilates for Runners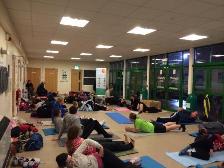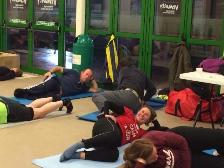 Our best turn out ever for a workshop, that was the attraction of the first GPAN 'Pilates for Runners' session led by Helen Preston. The exercises from the night can be found on the Resources page. Hopefully we can get Helen back for some more sessions, watch this space!
23rd December 2013 - Try the Track - Christmas Parlouf
At the December 'Try the Track' session the athletes took part in a GPAN Parlouf relay.
Results of the relay may be found here - Parlouf Results

29th November 2013 - GPAN Coach Development
The Greater Peterborough Athletics Network (GPAN) has had a busy month for coach development, hosting two workshops at the Peterborough Athletics Arena.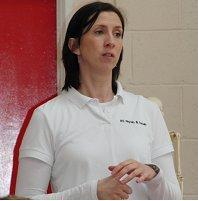 The first session was delivered by Ros Shuttleworth from RS Physio. The session focused on the importance of biomechanical movement in relation to improving athlete performances and helping to develop mechanically robust athletes, able to withstand the demands of training and competition. 16 coaches from The Greater Peterborough Athletics Network attended this session, as well as a couple of athletes. The session combined theory and practical to provide coaches with an opportunity to practically assess the movement patterns of athletes and make a basic assessment. Ros provided coaches with some tangible ideas and exercises to use within training sessions as well as some 'self-help' exercises for athletes to incorporate away from training and in to their daily schedule.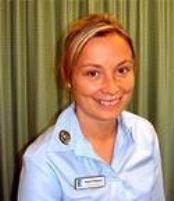 The second GPAN coach development session was delivered by Helen Preston BSc(Hons) MCSP and three of her colleagues on Wednesday 6th November 2013. Helen is a Clinical Director and Chartered Physiotherapist at Prestons Health based in Peterborough and Oundle. 29 coaches and athletes from across GPAN attended this coach development workshop. The session aimed to (i) explore the multidimensional risk factors for developing pain in runners, (ii) identify the normal movement patterns required for efficient running and; (iii) facilitate an opportunity for coaches and runners to experience some key movement patterns in a supportive learning environment.
Tim Cook, Chair of the Greater Peterborough Athletics Network, commented "we are extremely grateful to Roz and Helen for giving up their time to come and speak to GPAN members. Both talks were interesting and stimulating and gave us food for thought. Feedback I've received has been particularly appreciative of the practical elements of the talks and the opportunity to discuss them with Helen and Roz."
The next GPAN coach and athlete development event will be held on Wednesday 29th January at the Embankment track, starting at 7pm. The session will cover Pilates for Runners and will be delivered by Helen Preston. If you would like more information about this workshop or other GPAN initiatives, please see the events page. The workshop is free to all coaches and athletes who are members of GPAN clubs.
25th September 2013 - Greenwheel Relay
16 Teams took part in the second Green Wheel Relay staged on Sunday 22nd September. The race which consists of 7 stages over a distance of 50 miles takes place around the Peterborough Green Wheel. The race this year was organised on behalf og GPAN.
For further information including results please go to the GWR website - Green Wheel Relay

15th September 2013 - Startrack Summer School
85 athletes aged between 8 and 13 took part, over 435 sessions, in the GPAN Startrack Summer School held between 5th and 23rd August. The young athletes were put through their paces by seven GPAN coaches who between them delivered 218 days of coaching over the three weeks in a variety of events including Jumps, Throws and track workouts. Our thanks to the coaches who gave up time to ensure that there were some alternatives to watching TV through the summer for the young people of Peterborough
Check back next year for information on the 2014 Summer School
1st December 2012 - Endurance Coaching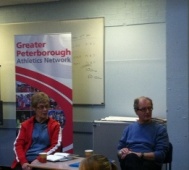 17 athletes from GPAN clubs got some expert tuition and tips from England Athletics Endurance Coach Mentors and City of Norwich Athletic Club (CONAC) coaches Tim and Pauline Ash.
The Endurance Training session which took part at Stanground College saw the group complete laps of the field at different paces and time periods. The practical session was followed by a Q&A session which explored the benefits of Cross Country as a good way to improve performance on both the road and track.
GPAN will be holding some Cross Country training sessions from Landy Green starting on 12th December. Details may be found on the 'Events' page.
20th October 2012 - Track Sessions
Thirty athletes attended the first GPAN track session held this week. The sessions follow on from the successful 'Get Fit 4' training for the Great Eastern. The next track session is on Wednesday 21st November. Full details on the 'Events' page.
13th October 2012 - Sportshall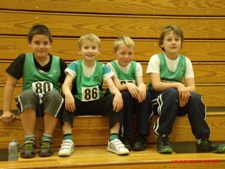 37 young GPAN athletes took part in the 1st of two Sportshall competitions at Bushfields Sports Centre. One of the athletes wrote about the experience.
"We all had a really good time and are looking forward to the next event which is on Saturday 24th November and we would really like some more junior members to come along and have as much fun as we did"
Read the full report.
Sportshall - by Stefan Fellows, Eye CR
The next Sportshall is on Saturday 24th November. Full details on the 'Events' page.
The Eye Team looking relaxed about the Competition
March 2012 - Peterborough Primary Schools Junior Cross Country Relay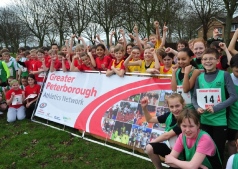 GPAN were pleased to be able to provide support for the local Junior Cross Country Relay to ensure the event can continue for the next four years. The annual event event sees teams of four athletes competing against each other promoting healthy competition amongst the local Primary Schools.
Feb 23rd 2012 - Nutrition - Practical Advice for the Club Coach
Ed Baker from Performance Hertfordshire delivered a presentation to GPAN club reps aimed at helping athletes get the best from training by ensuring the correct diet. Slides from the presentation are available here:
You are what you eat
. Further resources about Nutrition can be found by clicking here:
Eat and Drink like a champion
.
Feb 16th 2012 - Patience, Planning, Progression
Coaches and athletes from GPAN clubs listened intently to former UKA Head Coach Nick Anderson explain how to plan and prepare for Marathon and ½ Marathon distances. No matter how experienced everyone learnt something from the evening. To find out more about Nick and some tips on Marathon preparation go to
www.runningwithus.com
. Nick is back again later in the year with some tips on 5k and 10k training. Please see your club GPAN representative for details.
Dec 3rd 2011 - Traffic Management Course
Fifteen GPAN club members attended an England Athletics / GPAN organised Traffic Management course held in Eye. The course which leads to an NVQ level 2 Qualification is designed to equip those attending with the skills to identify risks when planning an event and to implement traffic management measures.
Nov 26th 2011 - Cross Country Coaching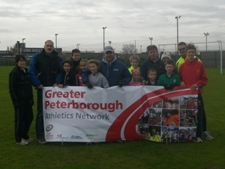 To-day was the final Saturday morning XC coaching session at Stanground. I've attached the updated weekly summary, but in short 31 different children attended and completed a total of 95 hours training, the breakdown by club was PAC 8, NVH 3, WJ 4, Yaxley 3, Eye 2 and unknown 11.
The figures represent a significant increase in numbers attending in previous years.
Some of the children, along with parents and coaches, who took part in the 2011 XC coaching sessions at Stanground College organised by GPAN.

Nov 2nd 2011 - David Hemery Flying Coach Visit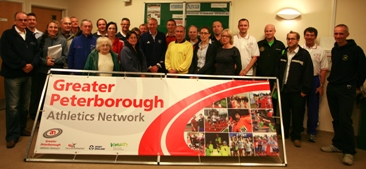 Twenty four GPAN coaches attended a workshop with David Hemery held at the Peterborough Athletics Centre.
The session which featured an insprirational presentation by David with interaction from the coaches was an excellent way to launch the coach development aspect of GPAN's activities.
Sept 2011 - Paul Evans - Training Session
Lowestoft based former winner of the Chigago Marathon Paul Evans supported by GPAN coaches spent the day in Peterborough visiting a number of local schools to encourage potential young athletes to get involved.
During the evening Paul led two training sessions, one for younger atheletes and another which saw the seniors from many of the local clubs put through their paces.